A Scientific Gut Check—Understanding Microbes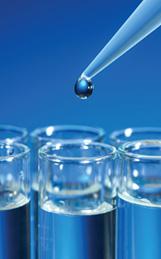 When you eat, you're really eating for two: yourself and the community of bacteria, fungi, and other microorganisms that inhabit your intestines. Many of these microbes play a vital role in helping break down and metabolize the food that we eat. Others can make us sick. These intestinal inhabitants are collectively known as our "gut microbiome," and scientists are just beginning to realize the complex role they play in our body. They're trying to determine how the types and number of species that comprise it affect our health, particularly in relation to diseases and conditions such as Crohn's disease and inflammatory bowel disease.
Towards that, ARS scientists in Wyndmoor, PA, are using a device known as "SHIME," short for Simulator of Human Intestinal Microbial Ecology. The device offers a way to study the influence of dietary changes on the activity of these microbes in a simulated environment outside the human digestive tract.
Ultimately, the findings could lead to new bioactive food ingredients derived from agricultural byproducts that bolster health-promoting members of the gut microbiome while inhibiting those that can cause harm.
Related Information
Research Project: Dietary Influence on the Population and Structure of the Human Gut Microbiota