Making Tires From a Desert Shrub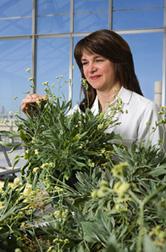 The U.S. tire industry currently relies 100 percent on imported natural rubber, which makes up 80 percent of a tire. Finding a domestic supply has been a national priority since World War II, when the Japanese cut off U.S. rubber supplies from Asia. But finally, there is an alternative.
Guayule (pronounced "gwai-u-li") is a flowering shrub native to the southwestern United States, and it's been studied extensively as a possible source of natural rubber, organic resins, and biofuel feedstock. Developing guayule rubber for use in tires is considered a national priority for supplementing the ever-growing need for rubber, both worldwide and for the U.S. tire industry.
With funding from the USDA National Institute of Food and Agriculture (NIFA), ARS scientists have led a collaborative research effort and made a series of breakthroughs in processing, stabilization, and performance that are allowing passenger tires to be produced with guayule rubber.
The tires, developed by an industry partner, have passed testing required by the U.S. Department of Transportation and more stringent internal industry tests. Guayule-rubber tires with exceptional wear and performance are now available commercially at prices comparable to those of high-performance tires made from traditional rubber.
Related Information
Article: Guayule's Past Meets Its Future