Disrupting Borer Mating To Protect Peach Trees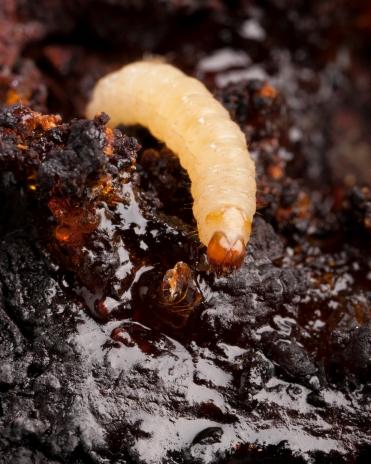 ARS researchers at the Southeastern Fruit and Tree Nut Research Laboratory in Byron, GA, worked with a collaborator to fend off peach tree pests. The peach tree borer and the lesser peach tree borer both cause serious damage to peach, cherry, plum, nectarine, and apricot trees. Hungry larvae kill young trees when they feed on growing tissue, and they severely reduce fruit production when they eat older trees. Conventional control of these insect pests has been difficult due to changes in insecticide labeling and the long season—up to 9 months—during which these pests must be controlled.
ARS researchers and their collaborator have demonstrated that an areawide mating disruption approach could control these pests and prevent larval establishment before feeding begins. Mating disruption is a management technique that releases pheromones in quantities to throw off the males and disrupt their mating, thereby reducing or eliminating future larva generations. The success of the project has led Southeastern U.S. peach growers to adopt this mating disruption strategy for effective pest control. In 2018, mating disruption management was used on 3,500 acres of commercial peach acres.
Related Information
Explore Other Discoveries