Saving Poultry From the Flu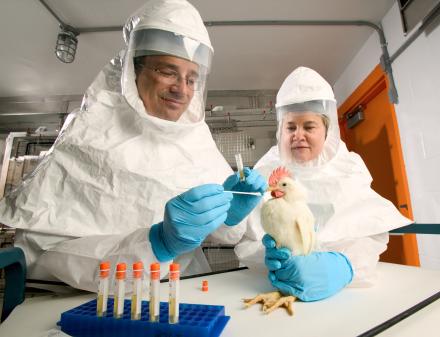 An outbreak of highly pathogenic avian influenza in the winter and spring of 2014-15 was the largest animal disease outbreak in U.S. history, resulting in over 48 million birds dying or being destroyed and losses of $3.3 billion. Vaccinating poultry with existing vaccine stockpiles was considered an option for controlling the outbreak.
But at the beginning of the outbreak, ARS researchers tested the available vaccines and found them inadequate for protection against this highly pathogenic virus. Avian influenza vaccines need to be updated to match the strain that is circulating and causing infections, just like human vaccines. The closer the match, the better the protection.
So, ARS scientists went to work and started constructing a new vaccine. Working with a commercial partner, ARS scientists showed that the vaccine they developed was highly protective. The updated vaccine was licensed, and in 2016, the USDA purchased 68 million doses to stockpile as a precaution in the event of another outbreak.
Related Information
Article: Giving Poultry a Healthy Start
Article: Going Overseas To Protect U.S. Poultry
Research Project: Development and Evaluation of Poultry Vaccines Against Low and High Pathogenicity Avian Influenza Viruses