Preventing Sugarcane Juice Losses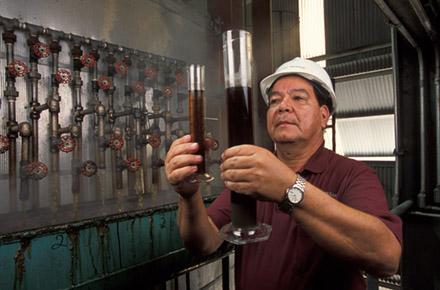 Microbial contamination of extracted sugarcane juice during commercial processing is a serious problem that degrades production and causes sugar loss. Although commercial biocides that control microbial growth are currently added to juice in U.S. sugarcane factories, their effectiveness is questionable.
ARS scientists evaluated three commonly used commercial biocides—bleach, sodium carbamate, and hops—and a newly developed ARS heat treatment. The researchers studied the biocides individually and in combinations at two commercial Louisiana sugar-processing facilities, and they found that none of the treatments were effective. However, applying the ARS heat treatment during the juice clarification process completely eliminated microbial contamination.
As a result of these findings, numerous U.S. sugar factories replaced costly commercial biocide treatments with the ARS heat treatment. Each factory has saved approximately $47,000 per year—an estimated savings of about $515,000 annually for the Louisiana sugarcane processing industry.
Related Information
Article: Raising Cane: ARS Research Benefits Sugarcane Growers and Processors
Research Program: Postharvest Quality and Processing of Sugarcane and Sweet Sorghum for Sugar and Ethanol Production