Making Pollinator Habitats Home Sweet Home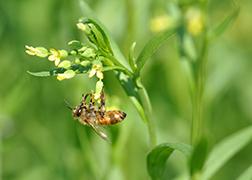 There is a shortage of habitat for honey bees and other pollinators in many Midwestern States.
ARS scientists have shown farmers how they can fit two oilseed crops that are good for pollinators—pennycress and camelina—into profitable rotations with corn and soybeans, which are so common in the Midwest.
Pennycress and camelina can produce enough nectar on 1 hectare (2.47 acres) to support up to 300,000 bees (two colonies) per year, and growers are beginning to use these crops. They also found that the two crops save water, improve water quality, and keep more nitrogen in the soil-added bonuses for producers.
Related Information
Article: Camelina Holds Promise for Biofuel and Bees
Research Project: Enhancing Cropping System Sustainability Through New Crops and Management Strategies