Monitoring Drought From Space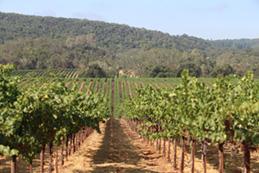 The National Oceanic and Atmospheric Administration (NOAA) started using ARS computer models in June 2016 to help monitor drought from space. The system monitors and predicts drought estimates in the United States from satellite images and other sources. Satellites and computer models generate maps of water loss from plants and soil, and NOAA uses the maps in its drought monitoring and land-surface modeling efforts. The maps can show State-by-State drought percentages, as well as the percentages of crops impacted. Growers then use this information to prepare for droughts. Individuals can enter a zip code to receive current drought data for their areas.
ARS scientists are also working with satellite imagery and computer models in collaboration with grape growers, including the California wine producer E. & J. Gallo Winery, to improve irrigation water management on vineyards that stretch across thousands of acres. The effort is helping E. & J. Gallo increase its yield and grape quality and reach its goal of reducing water use by 25 percent.
In other related research, ARS scientists in Parlier, CA, collaborated with NASA and the State of California to develop the Satellite Irrigation Management Support, which uses satellite data to monitor and measure crop water use. Additionally, the scientists developed the Soil Water Balance Model to improve the global monitoring of root zone soil moisture availability. The soil moisture model is being used by a number of users, including USDA crop analysts.
Related Information