Cheating Cheatgrass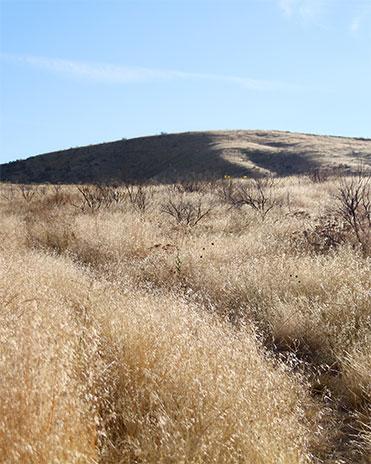 ARS scientists at the Great Basin Rangelands Research Unit in Reno, NV, have found success using pre-emergent herbicides as part of an integrated management plan to control cheatgrass, an aggressive, invasive weed from central Asia. Cheatgrass outcompetes native plants for nutrients and water and deprives animals of dietary variety and quality as well as habitat. The accidental introduction and subsequent invasion of cheatgrass into Great Basin rangelands also increased the frequency, intensity, and acreage of wildfires, which cost millions of dollars annually to fight. Millions more are then spent on efforts to restore these devastated lands.
Researchers tested pre-emergent herbicides to control germinating cheatgrass seeds. They later seeded the treated area with selected perennial species, including some developed specifically for rangeland restoration by scientists at the ARS Forage and Range Research Unit in Logan, UT. These plants have the ability to establish and persist in competition with cheatgrass. Over the 10- year study period, the strategy resulted in more than a ninefold increase in perennial grass densities as well as increased shrub and forb growth. This significantly reduced the chance, rate, spread, and season of wildfires. Restoring rangelands to a healthy mix of plants increases the productivity and sustainability of agriculture in the Great Basin while also supporting wildlife and reducing wildfires.
Related Information
Article: Cheating Cheatgrass
Explore Other Discoveries
Recycling Nitrate Pollution
Electrodialysis may not only benefit farmers, but also the environment by reducing nitrogen runoff from farms.