Eye Spy with My High-Tech Eye ...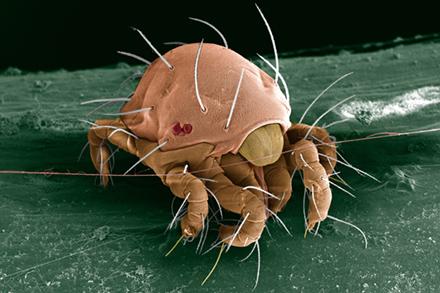 When it comes to cutting-edge research facilities, the ARS Electron and Confocal Microscopy Research Unit (ECMRU) is one to put on the proverbial short list. Located in Beltsville, MD, the climate-controlled facility houses eight different types of microscopes and a team of specialists who are world-renowned for their skill in creating high-resolution images of the unseen, from proteins and pathogens to plant chloroplasts and flat mites.
The ARS team has the ultimate set of tools—a confocal laser-scanning microscope among them. Moreover, they have the know-how. For example, they pioneered a procedure for flash-freezing mites in liquid nitrogen and coating them in a thin layer of platinum. In addition to capturing the mites' final moments for imaging, the procedure preserves the integrity and shape of the creature's delicate bodies for future study.
But wait, there's more! Using special printers, the team can transform the images they create into hand-sized, 3-D models for use as instructional and research aides. Most importantly, their expertise helps expand the scientific understanding—and control—of many of the microbes, pests, and pathogens that live in the soil, attack crops, infect livestock, and sicken thousands of people each year. Want to read about ECMRU in action? Then read the AgResearch article "Identifying Mites That Spread Citrus Leprosis".