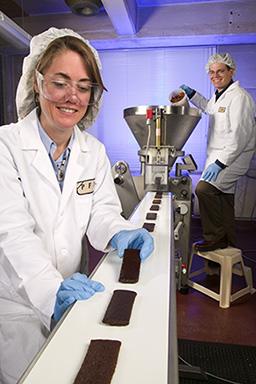 Dried fruit and vegetable snacks are becoming more popular among U.S. consumers. But these healthy alternatives to traditional snack foods eat up a lot of energy. In fact, in California, the dried fruit and vegetable snack industry is the State's third-largest energy user.
Fortunately, California also is home to an ARS team in Albany that specializes in researching ways to reduce food-processing wastes and create new, value-added products from agricultural commodities.
With support from the California Energy Commission, the team devised a two-step system that dries fruits and vegetables using 75 percent less energy than traditional methods. Commercial-scale tests of the system, which combines an infrared blanching step with hot-air drying, show that it produces crisp, flavorful snacks from carrot, kale, bell pepper, squash, pear, and apple within an hour.
A private company, Treasure8, is now producing and test-marketing these healthy snack alternatives (beet, apple, sweet potato) under the Ground Rules brands and in private label.
Related Information
Research Project: Commercial Demonstration of Infrared Dry Blanching and Dehydration of Fruits and Vegetables