Preventing Foodborne Pathogens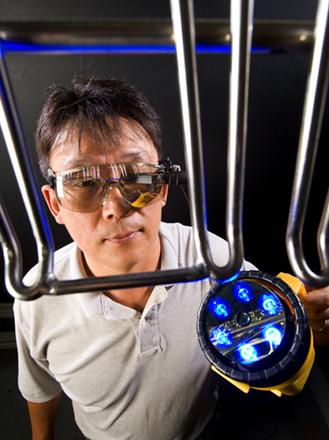 One of the leading concerns for the food industry is preventing foodborne pathogens, such as Shiga-toxigenic Escherichia coli O157:H7. It is estimated that annually E. coli O157:H7 causes tens of thousands of foodborne illnesses and more than 60 deaths in the United States. Identifying the correct foodborne pathogen strain is an important step to enhancing food safety.
To reduce foodborne illnesses, ARS collaborated with the Food and Drug Administration (FDA) to develop a low-cost, portable detection system that can differentiate between active and non-active toxins in food samples. Built with off-the-shelf components, the sensor system costs about $300 compared with current commercial systems costing $35,000.
Another important step in food safety is preventing cross-contamination of pathogens on surfaces. ARS has developed a battery-operated, handheld fluorescence imaging device that can detect food residues on spinach leaf, milk, and beef—three foods particularly associated with foodborne illness outbreaks. Useful in a variety of situations and on large, complex processing surfaces, the cost-effective optical sensing device has received considerable national and international interest from Federal regulatory agencies, the Department of Homeland Security, and the United Kingdom Food Standards Agency.
Related Information
Article: Camera System Detects Foodborne Toxin
Research Project:Development of a portable hyperspectral imaging system for monitoring the efficacy of sanitation procedures in food processing facilities.