Growing Bigger Fish: A Tough Roe To Hoe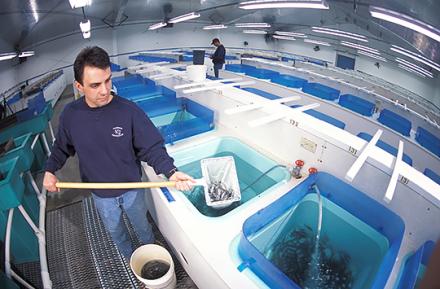 Most rainbow trout farmers do not manage their own breeding fish, but instead purchase eggs for production from outside sources. ARS researchers in Aberdeen, ID, and their collaborators at the University of Idaho's Aquaculture Research Institute have developed an improved line of trout germplasm that the nation's second largest commercial egg retailer is selling to trout farmers.
Fish bred from the new germplasm have shown an increase in weight gain from 175 grams to 400 grams after 5 months of feeding on a sustainable plant protein diet. In addition, research has shown that these fish are more metabolically efficient and can better process and utilize protein from different sources. The improvement in fish size and health not only improves the economic bottom line for fish farmers now, it will help provide more food for a growing global population.
Explore Other Discoveries