Predicting High-Risk Areas for Wildfires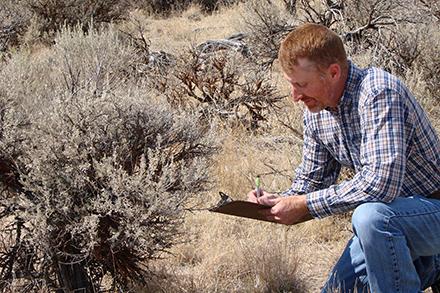 Wildfires destroy millions of acres of U.S. land every year and cause millions of dollars in damage to forests, residential homes, and the agriculture industry.  Like lightning strikes, wildfires can be unpredictable and quickly escalate, especially in the Great Basin region. ARS researchers with the Range and Meadow Forage Management Research Unit in Burns, OR, collaborated with partners at the University of Montana to develop a forecast tool to determine which areas have the highest probability of a large rangeland fire.
The forecast tool combines measures of accumulated annual and perennial grass vegetation that is potential fire fuel with recent weather and climate data. When integrated, this information can be translated into maps showing the likelihood of a large wildfire—greater than 1,000 acres—across the Great Basin. These forecasts also can be scaled down to predict fire risk for counties or even single pastures. Land managers can use this forecasting tool to institute wildfire prevention and suppression practices in notable high-risk areas.
Related Information
Article: Now You Don't Have to Wait for Smoke to Know Where Fires Are Likely to Occur
Explore Other Discoveries