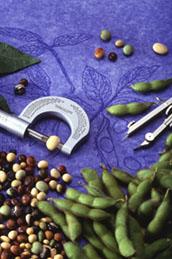 ARS research has led to the discovery of new sources of disease resistance to manage the major diseases that significantly affect the dry bean industry, including the discovery of a bean with resistance to more than 60 different types of damaging rust pathogens. The discovery opens the door to breeding beans with better resistance to those pathogens.
ARS researchers also are leading an international collaboration established to release new bean varieties with traits suited to production challenges in different parts of the world where beans are a staple crop. Compared with other foods, beans take a long time to cook, which is a major barrier to getting people to consume more of these affordable, nutritious powerhouses.
In an effort to reduce cooking time, ARS scientists discovered that genetic differences exist among beans that determine how long it takes the bean to cook. The scientists pinpointed the genes and transferred them into high-yielding bean plants that are now being used to develop new fast-cooking bean varieties.
Additionally, if pinto beans are harvested late, they can darken prematurely and thereby ruin the crop's market value, resulting in annual losses of more than $30 million.
ARS researchers collaborated with researchers at North Dakota State University to develop and release 'Scout', a new pinto bean cultivar that has a slow-darkening seed trait. The new cultivar also has better canning quality than the industry pinto bean standard. These efforts improve the production and quality of the global bean crop, with benefits for growers, consumers, and the bean industry.
Related Information
Article: Feeding the Future With Pulse Crops
Research Project: Genetic Enhancement of Dry Bean Nutritional and Processing Qualities