Killing the Crop Killers—Organically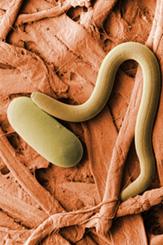 Methyl bromide was used for decades as an all-purpose fumigant to rid the soils of crop-killing nematodes, fungi, and other agricultural pests. But when researchers discovered that it depletes the ozone layer, the United States and other countries began restricting its use to limited types of agriculture. That created problems for a wide range of growers. Nursery operators alone would experience 100 percent crop loss without the fumigants, incurring annual losses of $14.7 million for fruit and nut tree nurseries and $9.8 million for rose nurseries.
ARS scientists have shown that anaerobic soil disinfestation (ASD), an organic treatment that temporarily removes oxygen from the soil, is inexpensive and easy to apply, and could become a reliable and cost-effective alternative. But to use ASD, farmers also need a readily available and inexpensive source of carbon to add to the soil. The source also needs to be effective on a broad range of pathogens and pests.
Field trials by ARS scientists in Wenatchee, WA, showed that orchard grass is a highly effective and inexpensive source of carbon for use in ASD treatments designed to control apple replant disease.
The treatment also had a positive side effect: there were significantly fewer weeds in the orchard. These scientists also found that Brassica seed meal is an effective carbon source and it increases the plant's own resistance to replant disease. With carbon sources such as orchard grass or Brassica seed meal, ASD is a promising alternative to methyl bromide fumigation.
Related Information
Research Project: Anaerobic Soil Disinfestation for Production of In-ground Ornamentals
Research Project: Anaerobic Soil Disinfestation for Small Farms in the Southeastern United States
Research Project: Assessment of Metabolites in Soil Treated with Anaerobic Soil Disinfestation