Got Soil? There's an App for That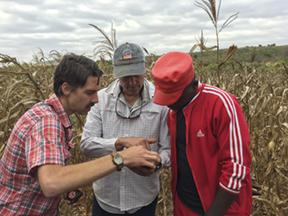 More and more, smartphones are proving to be a quick and convenient way to access everything from weather reports to restaurant reviews. Farmers are also using them to make decisions to maximize profits and increase their productivity and the sustainability of what they produce and how they produce it.
ARS scientists in Las Cruces, NM, with support from the United States Agency for International Development, have developed the Land-Potential Knowledge System (LandPKS) app for iOS and Android phones and tablets to help farmers better monitor their soil and vegetative (crop) conditions so they can make better decisions about when to irrigate, weed, and fertilize their crops.
The app is designed to crowdsource local and scientific knowledge to inform risk management, thereby helping to yield greater land productivity, economic return, and environmental enhancement.
The app is available for download at LandPotential.org.
Related Information
Article: Smart Phone App Balances Conservation and Production
Research Project: Land-Potential Knowledge System-LandPKS