Protecting a Tasty Fish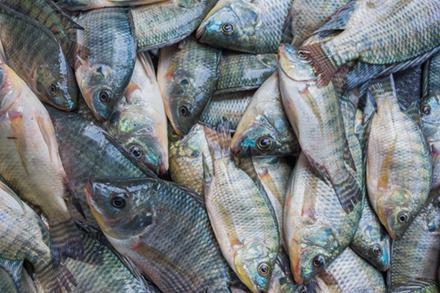 Farm-raised tilapia is big business for fish producers, netting an estimated $8 billion annually worldwide. However, tilapia farmers lose about $1 billion annually due to two devastating bacteria: Streptococcus agalactiae and Streptococcus iniae.
But relief is now in sight—for both the fish and the farmers who raise them. ARS researchers in Auburn, AL, helped evaluate new strains of tilapia that can resist the bacteria that cause the deadly fish disease streptococcosis.
Management strategies, antibiotics, and vaccines typically used to combat streptococcosis can be effective but have drawbacks. Both approaches can be expensive, and the use of antibiotics raises concerns about antimicrobial resistance.
In cooperation with a Nile tilapia breeding company, ARS researchers developed experimental models for evaluating the effectiveness of selective breeding methods used to fortify the fish's defenses against streptococcosis.
The work represents a milestone in breeding disease resistance in tilapia (the fourth-most consumed fish in the United States) and in reducing the dependency on costly antibiotics and their potential impact on the environment.
Related Information
Article: A Big Step towards Reducing Strep in Farm-Raised Tilapia