A Farming Boot Camp for Veterans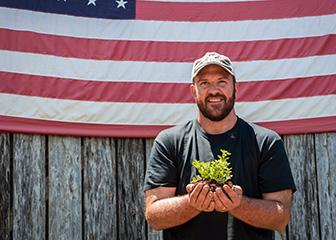 In Fayetteville, AR, scientists at the ARS Poultry Production and Produce Safety Research Unit have teamed with staff from the University of Arkansas (U of A) Division of Agriculture and the National Center for Appropriate Technology (NCAT) to introduce veterans to the farming profession and teach them basic agricultural practices.
The program, now in its 10th year, includes workshops, more than 35 online courses, internships, and "Armed to Farm" boot camps at the U of A campus in Fayetteville. ARS scientists and staff have been instrumental in designing and overseeing the implementation of many of these training programs.
Learning is focused in areas of expertise shared by ARS, U of A, and NCAT staff: poultry and livestock production, small ruminant (sheep and goats) production, marketing, and food production safety. Approximately 600 veterans have attended the summer boot camps and other programs to date.
The boot camps last for several days, and attendees stay for free on the U of A campus, where they can learn as well as develop friendships and the kind of informal networks that can help them adjust to civilian life. The online courses are also free, enabling veterans to explore what farming may hold for them and learn at their own pace.
Related Information
Research Project: Armed to Farm: Veteran Labeled Marketing, Education and Research Strategies to Soldier Success for Military
Article: Veterans Find a New Mission in Farming