Beating a Citrus Grove Enemy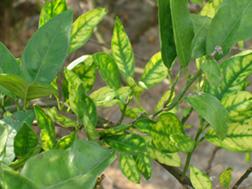 Citrus greening has devastated Florida's $9 billion citrus industry. Since its discovery in Florida in 2005, citrus greening has caused more than $4 billion in economic damage and wiped out about 8,000 jobs. The disease has also been found in California and Texas. There is widespread fear that the entire U.S. citrus industry will suffer from a serious epidemic.
Developing controls for citrus greening has been particularly challenging. It requires an in-depth understanding of the biology and physiology of citrus trees, the insect pest that transmits the disease (the Asian citrus psyllid), the disease-causing bacterial pathogen Candidatus Liberibacter (CLas), and their three-way interaction. Additionally, scientists are yet to be able to culture CLas—a critical step in learning how to control the bacterium.
ARS scientists in Fort Pierce, FL, have made significant progress in helping the State's citrus growers, providing management approaches that should prove effective also in other States. Working with a commercial partner, they are studying the effectiveness of two new antibacterial spray treatments (oxytetracycline HCI and streptomycin sulfate) that show promise for improving tree health and yield.
Study results from ARS researchers and two independent industry researchers show that treatment with the two antibacterial compounds resulted in 15 to 17 percent higher yields in treated groves after just 1 year of treatment.
ARS researchers and collaborators are continuing these studies to see if yield and tree health continue to improve with subsequent year treatments. Scientists also provided research data so Florida growers could secure State and U.S. Environmental Protection Agency (EPA) approval to begin using the treatments as emergency measures. These antibacterial compounds are already approved for use in a variety of commercial tree fruit orchards, including apple, peach, and pear.
 ARS researchers are monitoring the citrus groves where these compounds are now being tested to evaluate their effects on soil, leaves, and trees overall. To complement the antibacterial treatment approach, ARS scientists have released four new varieties of rootstock—the lower part of a tree—that show improved tolerance to citrus greening. In addition, they have identified new sources of disease resistance in citrus relatives from the ARS Citrus Germplasm Collection that show promise for breeding delicious new citrus greening-resistant citrus varieties.
Related Information
Web page: Huanglongbing (Citrus Greening): What ARS Is Doing