Cattle Thank Their Lucky Clovers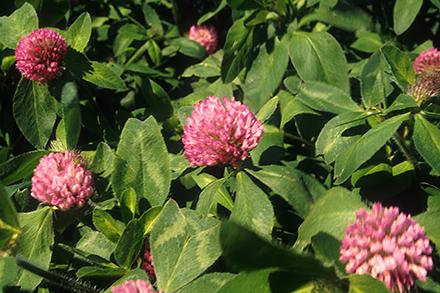 Scientists with the ARS Forage-Animal Production Research Unit in Lexington, KY, found that introducing red clover into cattle diets could give the animals an additional defense against fescue toxicosis, a health condition caused by the consumption of fungus-infected tall fescue (a common grazing grass). Characterized by tightened blood vessels, infertility, weight loss, and lowered milk production in livestock animals, fescue toxicosis is estimated to cost the U.S. livestock industry $2 billion every year. 
Because red clover contains isoflavones, special compounds that dilate constricted blood vessels and improve blood flow, the team successfully hypothesized isoflavones' ability to mitigate symptoms of fescue toxicosis. Cattle that consumed grasses from pastures interseeded with red clover exhibited increased blood flow and greater growth.  Additionally, red clover is an extremely palatable but low-cost source of high-quality protein, which makes it an ideal supplement for cattle diets.
Related Information
Article: Red Clover, Red Clover – Send Your Isoflavones Right Over
Explore Other Discoveries