Cleaning Water on Earth—and in Space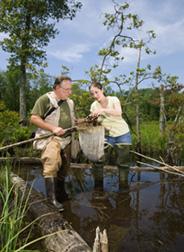 One of America's most widespread and costly environmental problems is nutrient pollution in its streams and waterways caused by excess nitrogen and phosphorus in the environment. Using existing technologies to remove nitrogen from wastewater in treatment plants in the Chesapeake Bay alone costs an estimated $8.2 billion.
ARS scientists have come up with a game-changing water purification technology to remove nitrogen from wastewater at one-third the cost of existing technologies. ARS has teamed up with a commercial partner to expand use of the new technology in household septic tanks in the Chesapeake Bay watershed, where 52,000 septic systems need to be upgraded to be able to remove nitrogen.
The new technology could cut the cost of these upgrades by two-thirds, saving up to $446 million in Maryland for septic upgrades. The technology is also being provided to NASA so that astronauts can use it to recycle wastewater in space.