Spotted Lanternfly Genome Sequenced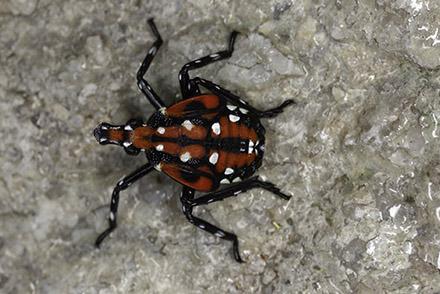 A team of scientists from ARS labs in Hilo, HI; Beltsville, MD; and Stoneville, MS, in cooperation with Pacific Biosciences (PacBio), published the first genome of the invasive spotted lanternfly (SLF). No other closely related species has had its genome sequenced, making the data even more important. SLF, a native of China, Bangladesh, and Vietnam, was first found in Pennsylvania in 2014 and has now spread to Maryland, New York, and Virginia. The plant- hopper has a taste for almonds, many fruits, hops, and some hardwoods. Various estimates put the potential economic damage in the billions of dollars if SLF becomes widely established in the United States.
In another "first," using new sequencing technology from PacBio, the team was able to generate the genome data from a single wild- caught planthopper, rather than having to raise a colony for the process. This is especially note- worthy given that the SLF genome's size – about
2.2 billion base pairs. Having the genome for this pest will lead to a better understanding of its biology and behavior and speed the development of lures and traps. The rapid-sequencing technology should also help advance ARS's Ag100Pest Initiative, which aims to decipher the genomes of the 100 insect species most destructive to agriculture and the environment.
Related Information
Article: First Genome of Spotted Lanternfly Built from a Single Insect
Explore Other Discoveries