No Need to Watch Grass Grow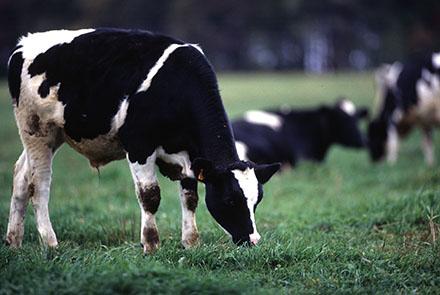 Ranchers in the Northern Great Plains have a new forecasting tool, called "Grass-Cast," to take some of the guesswork out of figuring how much grass will be available for livestock grazing during the upcoming summer.
Ranchers currently use their experience and "boots-on-the-ground" observations of rangeland conditions to decide how many cattle to release for grazing and when.
Now, using Grass-Cast, they can hone those decisions using 34 years of historical data on weather and grass growth, plus seasonal precipitation outlooks. Grass-Cast crunches this data to predict if rangeland grasses in a rancher's county will produce above-, below-, or near-normal amounts. Grass-Cast is released in early May each year as three color-coded maps and is updated every 2 weeks.
Like a fine wine, Grass-Cast gets better with age, improving in accuracy as the growing season unfolds. However, ranchers are encouraged to "leaven" this new forecast with their local knowledge about plant communities, topography, soil types, and other conditions before making final grazing decisions.
Debuted in May 2018, Grass-Cast is the result of a collaboration between ARS scientists in Fort Collins, CO, Colorado State University, USDA Natural Resources Conservation Service, the National Drought Mitigation Center, and University of Arizona. Updates are available on the USDA Northern Plains Climate Hub website.
Related Information
Article: Grass-Cast: A New, Experimental Grassland Productivity Forecast for the Northern Great Plains