Unlocking The Code to Protect American Cattle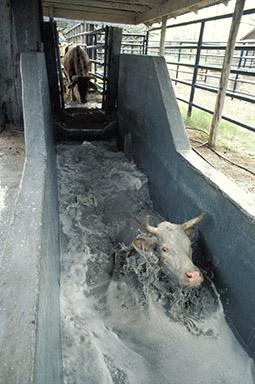 Two types of ticks pose a particular hazard to the American cattle industry. Rhipicephalus microplus and Rhipicephalus annulatus can carry and transmit serious diseases, including cattle fever and anaplasmosis. While the ticks have been successfully eradicated in the United States, the risk of re-entry persists, as both are found in Mexico. ARS scientists in Kerrville and Edinburg, TX, and their university research partners collaborated to sequence and assemble the ticks' genomes, focusing for the first time on strains specific to the United States. They utilized the latest technology to produce genomes that were more complete and detailed than any prior versions.
Researchers found several vaccine candidates using the improved genomes, and two of them had a patent application filed after testing in partnership with a major pharmaceutical company. These discoveries will contribute to the development of cattle vaccines that specifically target R. microplus and R. annulatus, interfering with their ability to transmit disease to cattle, and keeping the animals safe and healthy.
Related Information
Research Project: Integrated Pest Management of Cattle Fever Ticks
External Video
Unlocking The Code to Protect American Cattle
Unlocking The Code to Protect American Cattle
Explore Other Discoveries