Improving Soil and Water Conservation and Agricultural Production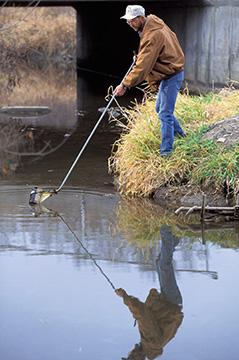 ARS scientists, in collaboration with USDA's Natural Resources Conservation Service (NRCS), made significant enhancements to the Soil and Water Assessment Tool (SWAT). Originally developed by ARS scientists, SWAT is the world's leading simulation model for assessing the watershed scale environmental effects of crop, forest, and rangeland management. It is a critical part of the Conservation Effects Assessment Project (CEAP), through which USDA evaluates the regional and national effects of conservation practices.
The new model includes improved data structures and data analysis, a new Web-based interface, and improved representation of critical agricultural production regions. Congress, USDA agencies, and international decision-makers rely on this state-of-the-art tool to support natural resource management and conservation practices and to help shape agricultural policy.
Related Information
Website: Soil and Water Assessment Tool
Facebook: SWAT: Soil and Water Assessment Tool