Elephant Grass Trumpeted as Bio-Feedstock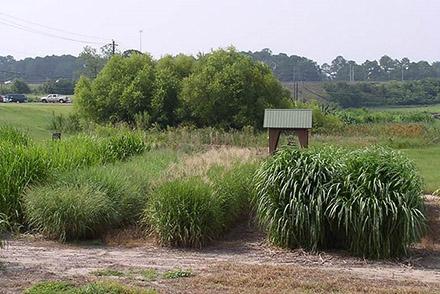 Napier grass, otherwise known as elephant grass, has the highest biomass productivity of any grass that has been tested for biofuel feedstock cropping in the southeastern United States. 
To maximize elephant grass's utility as a bioethanol feedstock, ARS scientists from the Crop Genetics and Breeding Research  and Southeast Watershed Research Units in Tifton, GA, and the Bioenergy Research Unit in Peoria, IL conducted research on how farm management practices could impact its production.  One important discovery was that if the crop was fertilized in May and harvested in December just once a year, elephant grass production could remain consistent for the next 5 years. In contrast, two harvests a year (in June and December) led to dramatic declines in production beginning in the 3rd year. ARS researchers continue to help farmers and biofuel producers better understand elephant grass's capacity as a biofuel feedstock and improve production efficiency for all types of bio-feedstocks. 
Explore Other Discoveries