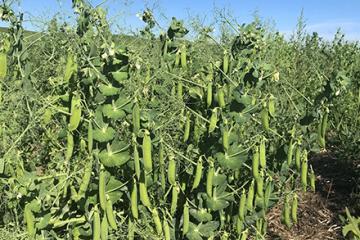 USDA Improves Fall Planting Options with New Pea Cultivars
Many farmers practice crop rotation, growing different crops each year to maximize the use of their land and to ensure continued soil health. However, there have historically been few crops to plant during the fall because many plants do not tolerate colder weather well. To provide farmers with more options, ARS researchers recently developed and released three new pea cultivars that can be grown in the cooler months. They are the first winter pea cultivars designed specifically for human consumption rather than feed for livestock.
The cultivars, named "USDA Dint," "USDA MiCa," and "USDA Klondike," will provide farmers with a variety of benefits. In addition to offering more options for fall planting, the peas will help to fix atmospheric nitrogen into a form that is available for subsequent crops, and will use less soil moisture than cereal crops, like wheat, rice, or corn.  Incorporating a legume like peas into a cereal-based cropping system will also give farmers an opportunity to break weed and disease/pest cycles. 
Related Information
Article: ARS Releases First USDA Winter Peas for Food, Not Feed
Explore Other Discoveries