Building a Better Honey Bee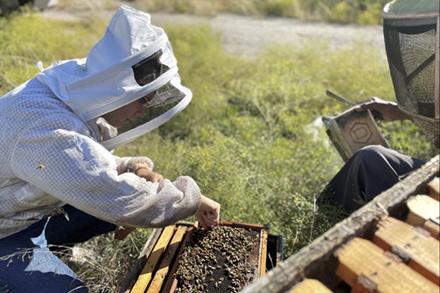 Honey bees face multiple health threats, commonly known as the four "Ps" – parasites, pathogens, pesticides, and poor nutrition. ARS researchers at the Honey Bee Breeding, Genetics, and Physiology Research Unit in Baton Rouge, LA, are studying genetics and breeding to make honey bees more resilient to these threats. Their multi-faceted research program focuses on understanding how these threats affect honey bees, identifying and selecting traits for breeding more resilient honey bees, and developing management strategies for enhanced honey bee populations.
To build better honey bee populations, ARS researchers are studying different approaches to combatting the four "Ps". Notable research developments include: developing two Varroa mite-resistant honey bee breed stocks; developing edible vaccines for the deformed wing virus using nutritious microscopic algae, known as microalgae, that can be introduced into honey bees' diets; examining pesticide resistance in mites that harm honey bees; and updating genetic information and tools to inform and improve breeding efforts by commercial beekeepers.
Related Information
Article: Microalgae Food for Honey Bees
Article: Deformed Wing Virus Genetic Diversity in U.S. Honey Bees Complicates Search For Remedies
Explore Other Discoveries