Beneficial Wasp May Help Put Sting in Fruit Pest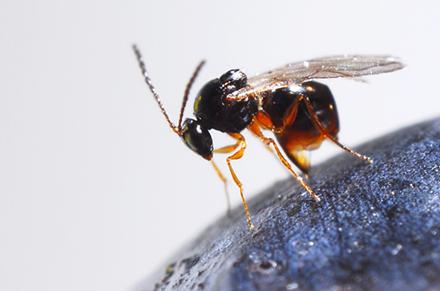 Spotted-wing drosophila (SWD), a tiny fruit fly from Asia, poses a major threat to soft-skinned fruit crops in the U.S. Its larval stage bores into the fruit to feed and develop, reducing yield and marketability. In California alone, such attacks can inflict losses up to 80% in cherry, blueberry, raspberry, and other soft-skinned crops worth $4.37 billion annually.
ARS and University of California-Berkeley scientists are evaluating the potential of a natural enemy imported from East Asia to biologically control SWD. They recently released the parasitoid wasp Ganaspis brasiliensis at sites in California after ensuring it was not a danger to non-host insects. After mating, female wasps lay their eggs on SWD larvae, and the broods that hatch eat the larvae alive before emerging as young adults. If successfully established, the wasp could help fruit growers dial back their insecticide use against SWD, reducing costs as well as environmental and human health concerns.
Related Information
Research Project: Areawide Management of Spotted-Wing Drosophila
External Video
Beneficial Wasp May Help Put Sting in Fruit Pest
Beneficial Wasp May Help Put Sting in Fruit Pest
Explore Other Discoveries