Better Water, Happier Fish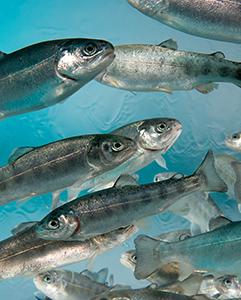 Research into the health of farm-raised rainbow trout revealed that one of the secrets to fish survival is in the water. ARS scientists at the Cool and Cold Water Aquaculture Research lab in Leetown, WV, found that fish raised in reused water faced significantly higher mortality rates than those grown in tanks supplied with fresh spring water.
Fish farmers often reuse water to conserve freshwater resources, but the magnitude of risk associated with short- or long-term reused water exposure and its impact on fish genetics and vaccine response was unclear. Researchers examined the health of fish that were vaccinated and those that had received mock vaccinations when raised in either reused or freshwater. Results showed that fish exposed to constant reused water without any acclimation had a mortality rate at least 46-fold over fish raised in freshwater. This research demonstrated the importance of freshwater in improving profitability and fish wellbeing.
Related Information
Research Project: Improving Salmonid Health through Breeding, Vaccination and Microbiome Modulation
Explore Other Discoveries