Liver and Onions, Please. Hold the Abscess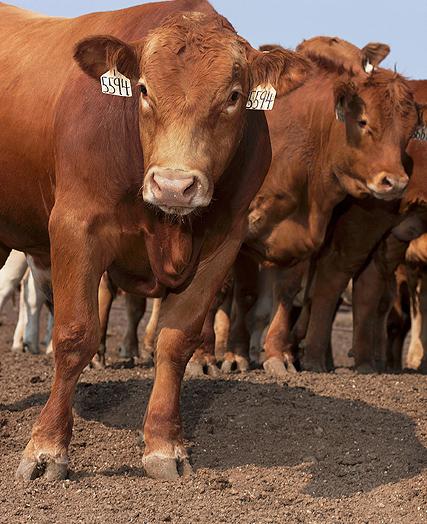 In a groundbreaking study, ARS researchers showed for the first time that changes in cattle rumen associated with liver abscesses remain well after the early development of rumen acidosis caused by high corn diets.
Beef cattle liver abscesses are the highest cause of liver being deemed unsuitable for human consumption. Costs to the beef industry are estimated at a minimum of $64 million annually and up to $400 million in a combination of product loss, reduced animal production efficiency, and health. Liver abscesses are caused by bacteria transported from the rumen that subsequently colonize the liver. The rumen is the largest of a cow's four "stomachs," where bacteria digest the cellulose in grasses and feeds.
ARS scientists at the U.S. Meat Animal Research Center in Clay Center, NE, in collaboration with scientists at the University of Nebraska-Lincoln, studied gene expression in the cattle rumen and the variations in bacterial communities attached to the rumen in cattle with liver abscesses. They identified associations between differentially expressed genes in rumen tissue and the bacterial species attached to the rumen.
These findings indicate that measuring changes in gene expression may help identify the development of liver abscesses in feedlot cattle and for developing treatments. This groundbreaking discovery will lead to additional study of factors that contribute to liver abscess development, provide effective identification of animals susceptible to liver abscesses, and reduce the negative impacts of abscesses on production efficiency and animal welfare.
Related Information
Research Project: Improve Nutrient Management and Efficiency of Beef Cattle and Swine
Explore Other Discoveries