Stopping a Deadly Virus at the Border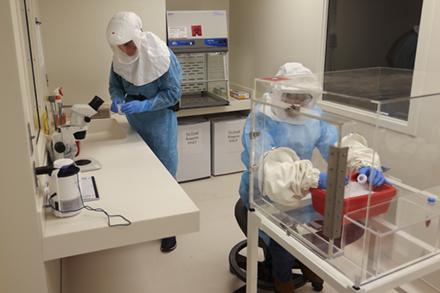 Japanese encephalitis virus (JEV) is an endemic disease in Asia. It is carried by mosquitoes and belongs to the same genus as Dengue, Zika virus, yellow fever, and West Nile virus. The mortality rate of symptomatic cases is high (20-30%), and up to half the survivors experience significant neurological symptoms.
Although JEV has currently not reached the United States, previous studies determined that this country is at high-risk for its introduction. To keep JEV from entering our country, ARS researchers at the Foreign Arthropod-Borne Research Disease Unit in Manhattan, KS, collaborated with Kansas State University researchers to study areas of vulnerability, including increases in wild animal populations that can transmit the disease, illegal animal importation and movement, the reduction in mosquito control in regions with highest risk, and changing patterns of viral strains. Identifying these gaps and more closely monitoring animal and mosquito incursion of JEV can reduce the potential consequences of the virus entering the United States.
Related Information
Research Project: Japanese Encephalitis Virus Prevention and Mitigation Strategies
Explore Other Discoveries